Monthly Mission Focus – Society Of St. Andrew
SEPTEMBER IS NATIONAL HUNGER ACTION MONTH!
Did you know?
Over 70 million people in the U.S. today are hungry or are food insecure. In the US we will throw away 133 billion pounds of food in 2020. Formed in 1979 The Society of St Andrew (SoSA) shares healthy, nourishing food with hungry people in the USA by sending volunteers to glean (pick, dig, or gather) fresh fruits and vegetables from fields and orchards. Since 1979 SoSA has partnered with faith groups, secular groups, schools and individuals that we might serve together by feeding the hungry. SoSA prevents food waste, feeding the hungry through projects including Potato & Produce Project, Harvest of Hope and the Gleaning Network.
So far in 2021 SoSA has: Gleaned, gathered, and distributed 35,823,261 pounds of fresh produce in 3,500 events with 9,756 volunteers.  Food donated by 590 farmers has been distributed to hungry people through 1,317 feeding agencies.  Pounds of food already wasted in the US this year–80,247,264,994 and counting. This waste happens in fields, transportation, supermarkets, restaurants, and homes.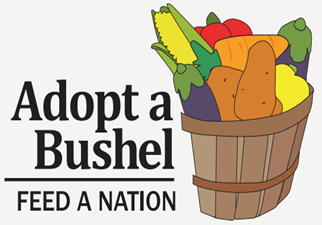 Adopt a Bushel
Adopt a fruit or veggie to support the gleaning and feeding work of the Society of St. Andrew! Each of the fruits or veggies in our Adopted Bushel is marked with a specific dollar value, that represents a HUGE quantity of that food for hungry people. All of these fruits and veggies are ones that SoSA gleaning volunteers glean or recover and share during a typical year.
How does it work?
Visit the adopt a bushel display at the connection tables in gathering area.

Choose an envelope with a fruit or vegetable and give the corresponding dollar amount.
Enjoy the enclosed fun facts about your adopted fruit or veggie.
Donations may be given in the designated envelope, placed in offering baskets.
Donations may be made online at stmarkscarmel.org/give.