Adult Study Groups
Find community and grow in your spiritual walk through our adult discipleship groups.
Stay Connected
Our groups connect on-site with in-person meetings, in a hybrid format (on-site and online), and/or on Zoom.
Grab-and-Go Book Pickup: Study books are on shelves in the church entrance (Door #2), Monday to Thursday, 9:00am-4:00pm, Firdays 9:00am to noon and Sunday mornings. Leave money in the box, in the office if it's open, or pay online.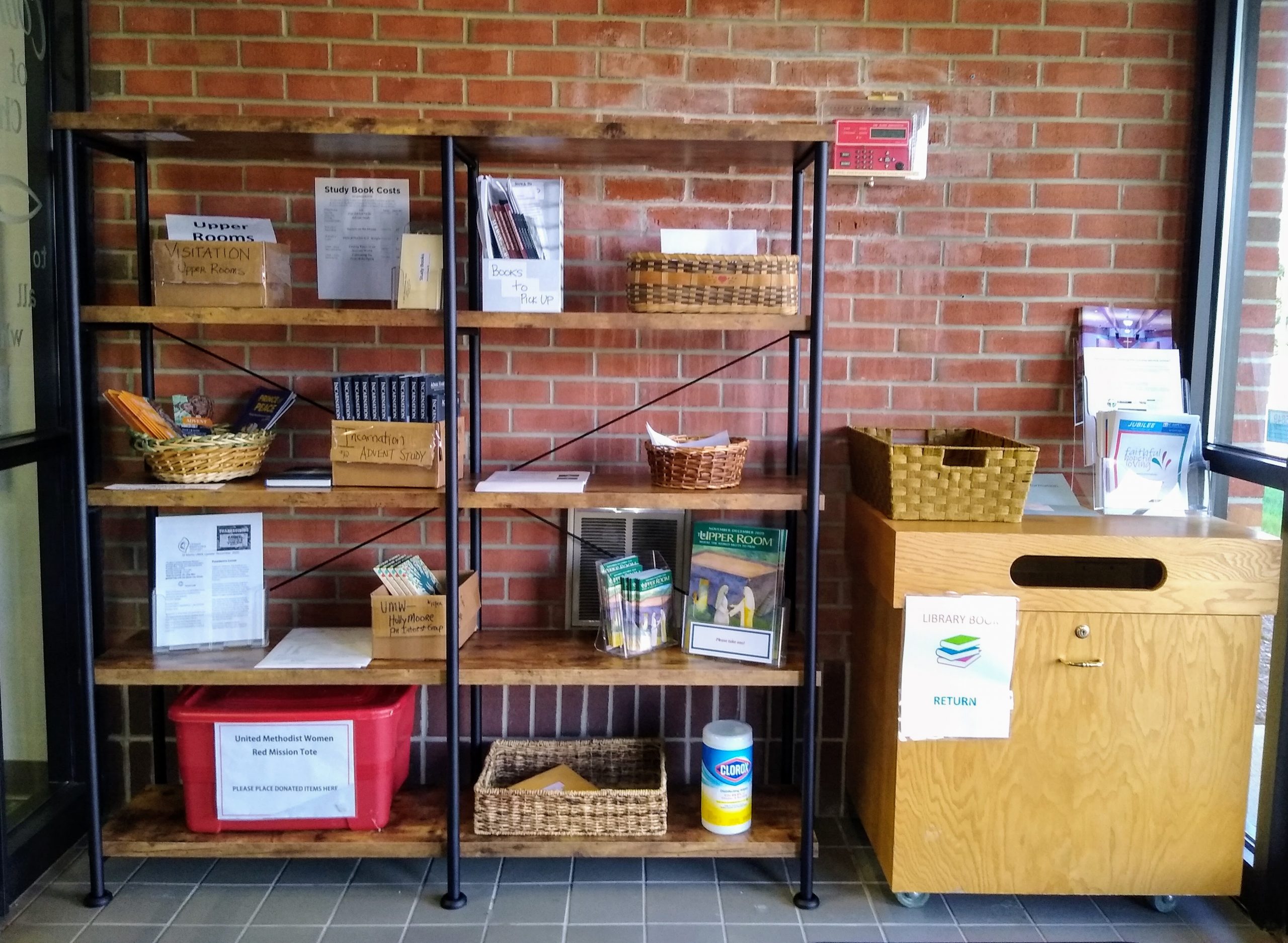 Grow Group(s) Launch
You might have heard them called Life Groups, Circles, Community Groups, Home Groups in other churches…Here at St. Mark's, our Grow Groups connect people in shared life stages to encourage one another and grow in their faith as they do life together. Some meet only for weeks–some in the church and some in homes–and some have navigated life's challenges together for years. 
If you would like to connect with new Grow Group(s) forming in Fall 2022, please fill out the group interest form.  
Themed and Short-Term Studies
Short-term studies explore specific themes (e.g., discipleship topics, spiritual growth, social justice, Advent / Lenten seasons).
On This Spirit Walk:  The Voices of Native Americans and Indigenous Peoples
Sundays, September 11-October 2 | 6:00-7:00 PM | hybrid | Books $16
Led by Deanne Persinger and Pastor Brian White
Henrietta Mann and Anita Phillips's book On This Spirit Walk is a four-week study resource for small groups within local churches. This book includes voices from diverse Native American United Methodist writers—including a cross-section of tribes and nations, ages, and life experiences—with a powerful depth of vision from indigenous activist and human rights advocate Rev. Liberato Bautista.
Foundations for a Lifelong Journey 
Sundays, September 11-October 23 | 6:00-7:15 PM
Led by Pastor Karla Elliott | hybrid study | Books $15
Growth as a disciple begins with a good foundation. As we learn ways to Welcome, Grow, and Serve at St. Mark's, Foundations by Phil Maynard brings insight on how to how to pray, how to begin reading the Bible, how to live in authentic relationships, how to have a devotional time, how to use the resources God has provided, how to discern our call to serve, and how to share our faith. This study is good for newbies and long-time churchgoers alike: those who are brand new to St. Mark's, brand new to the Christian faith, and those who are seeking to deepen their own practice and build relationships with those in a different stage of spiritual maturity. 
Walking

 

as

 

Spiritual

 

Practice 

We are continuing this popular group from last summer! Jennifer Cloud-Buckner will lead a group for those interested in walking as a spiritual practice in a daytime and NEW evening session each month.
On the 
last Thursday morning monthly 
(9:00 AM on 7/28, 8/25) and
last Tuesday evening monthly 
(7:00 PM on 7/26, 8/30), we will gather at River Road Park at 12575 River Rd. Each time we will begin with a short devotional time and then walk.  You can choose to walk alone or in a group for a pace and duration of your choice! Sign up is not required, but if you'd like to be on the email list for any weather changes or cancellations, sign up here. Questions? Email Jennifer at
grow@stmarkscarmel.org
.
Books for the studies below will go in the church entrance and Gathering Area by August 14.
If you need your book sooner, visit the church office or contact Jennifer at grow@stmarkscarmel.org. 
Men's Early Morning Bible Study:
Genesis  
Wednesdays, September 7-December 14 | 6:30-7:15 AM
Led by Pastor Brian White | Room B/C + Online | Books $13
Pastor's Bible Study: 
Genesis
Wednesday

s, September 7-December 14
| 
9:30-10:30 AM 
Led by Pastor Brian White | Room B/C + Online | Books $13
The Bible's first book contains many well-known stories, some familiar since childhood: creation and the garden of Eden; Noah's ark; Abraham and Isaac; the conniving Jacob; and the dreams of Joseph. Hear these stories in a new way through Celia Brewer Sinclair's Interpretation Bible Studies: Genesis and discover the knowledge that God created everything in goodness and love. Whether in the heights of paradise or the depths of exile, the human journey is never far from God's love and presence for us all. Books are available in the office if you need them before August 14. 
Survival Guide for the Soul 
Wednesday

s
, August 31-November 16
| 
9:30-11
 AM
Led by Lydia Fourman and Joan Dunn | Room J/K | Books 
$
10 
This book explores a fresh perspective on how timeless spiritual practices help us orient our lives for our souls to flourish in demanding times. This study will help anyone seeking a closer relationship with Christ in the midst of daily pressures, and anyone wanting to transcend the human tendency to define ourselves by what we do, what we own, and what others think of us.
Thursday

s
, September 1-October 6 
| 
9:30-11
 AM
Led by Judy Woempner | Hybrid online + Room B/C | Books $11 
In The Lord's Prayer: The Meaning and Power of the Prayer Jesus Taught, pastor and bestselling author Adam Hamilton guides us to really know—and really pray—the Lord's Prayer. He explores the meanings of each line, illuminating what we ask of God, what we ask of ourselves, and what Jesus was asking his disciples to pray through the prayer's words and patterns.

Friday

s
, August 26-September 23 
| 
9:30-11
 AM
Led by Stephanie Cohen | Hybrid online + Room B/C | Books $12
Waiting on God challenges our faith when bills are stacking up, our families are falling apart, or our dreams feel like they won't come true. Author Barb Roose invites us to explore Bible stories of those who had to wait on God— women like Hannah, Ruth, Martha, and the unnamed woman who suffered for over a decade with a painful medical condition. If you've felt anxious, angry, discouraged or depressed because God isn't giving you what you want, their stories will bring fresh hope, practical next steps, and a closer relationship with God into your life.
Sunday Morning Study Groups
Cutting Edge
9:30 AM, Hybrid (Room G/H and Zoom)
 This group reads and discusses the Bible following the Revised Common Lectionary, a 3-year cycle of reading through scripture. The Word comes alive through the blessing of the Holy Spirit. Contact facilitator
Steve Click
 (
sclick52@gmail.com
) for Zoom connection information or join in Room G/H.
Open Doors, Open Ideas
9:40AM, Room L
This class shares in conversation about faith in real life, including current news issues from
The Wired Word
devotionals and/or themes from Christian books and authors. Chuck Blair facilitates.
Foundations and Friendships
9:40 AM, Hybrid (Room J/K and Zoom)
F&F's shares and discusses Christian themes through books,
The Wired Word
devotionals, and Bible studies. Recent books include 
The Color of Compromise, Questions God Asks Us
, and
The Epic of Eden
.  Doug Brown (
dthbrown@gmail.com
), Kathy DeaKyne, and Todd Snow facilitate.  
Reel Spirituality
11:00 AM, Hybrid( Room G/H and Zoom) Everyone is welcome to "the movie class" for Christian themes and heartfelt topics through a variety of films. The class is gathering in homes or individually watching movies and then using Zoom and Room G/H on Sundays to discuss. Lydia and Terry Fourman facilitate (email Jennifer – grow@stmarkscarmel.org for Zoom link).