Adult Study Groups
Find community and grow in your spiritual walk through our adult discipleship groups.
Stay Connected
Our groups connect with in-person meetings, in a hybrid format (on-site and online), and/or on Zoom.
How to Find & Pay For Books: Study books are on 1) the GROW Connection Tables in the Gathering Area and 2) on shelves in the church entrance (Door #2), Monday to Thursday, 9am-4pm, Fridays 9am-12pm, and Sunday mornings. 
To pay for books, mark your envelope as "Study Books" and put it in the offering plate, office, black box on the shelves, or basket on the connections table. Make checks to St. Mark's UMC with "study books" in the memo line. You can also pay online.  On the online giving page, click the box under "How would you like to allocate your donation" and select Study Books from the dropdown menu.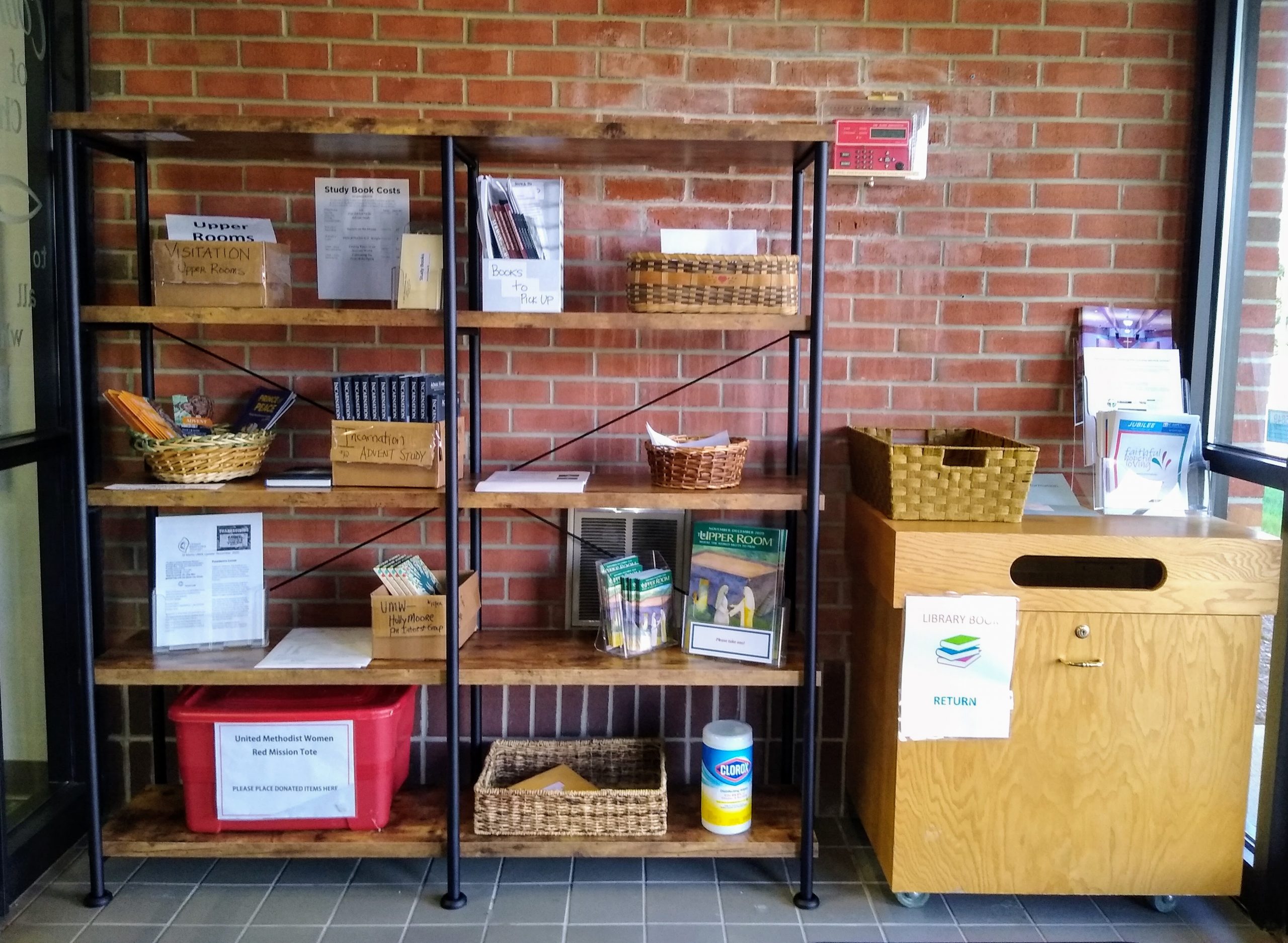 Grow Group(s) Launch
NEW: A new Grow Group for families with school-age children is beginning in January, with childcare available. Email Jennifer (grow@stmarkscarmel.org) or fill out the Grow Group form for info!
You might have heard them called Life Groups, Circles, Community Groups, Home Groups in other churches…Here at St. Mark's, our Grow Groups connect people in shared life stages to encourage one another and grow in their faith as they do life together. Some meet only for weeks–some in the church and some in homes–and some have navigated life's challenges together for years.
If you would like to connect with new Grow Group(s) forming, please fill out the group interest form.
Themed and Short-Term Studies
Short-term studies explore specific themes (e.g., discipleship topics, spiritual growth, social justice, Advent / Lenten seasons).
Almost Christmas: A Wesleyan Advent Experience
Sundays, November 27-December 18 | 6:00-7:15 PM   
Led by Pastors Karla Elliott and Brian White | Room TBD + online | Books $13
In 1741, Methodism founder John Wesley preached his famous sermon titled "The Almost Christian" in which he encouraged people to follow Christ wholeheartedly, striving to be "altogether" a Christian. In Almost Christmas, pastor Magrey deVega and other authors apply those concepts to the 4 themes of Advent—love, hope, joy, and peace. Participants learn to claim God's promises and break through the barriers preventing us from experiencing an "altogether" love, hope, joy, and peace of Christ in our lives this Advent season and beyond. Join us to prepare for an "altogether" Christmas. 
Foundations  
Sunday afternoons, 1/8-1/29 | 4:00-5:30 PM
Led by Pastor Brian White | Books $15
January is often a season of exploring new habits, finding ways to rest, and prioritizing what matters most. The
Foundations
study is a helpful guide to find new rhythms in your faith—whether you feel a bit stuck in your journey, are brand new to St. Mark's, or need ways to nurture your spiritual maturity. Join this four-week study for spiritual renewal in 2023.  
Childcare potentially available. Email Jennifer (grow@stmarkscarmel.org) to learn more.
Our ongoing weekday morning studies gather on Wednesdays, Thursdays, and Fridays during the school year.
Men's Early Morning Bible Study:
Luke
Wednesdays, January-May 2023 | 6:30-7:15 AM
Led by Pastor Brian White | Room B/C + Online | Books $13
Pastor's Bible Study: 
Luke
Wednesday

s, January-May 2023
| 
9:30-10:30 AM 
Led by Pastor Brian White | Room B/C + Online | Books $13
This Interpretation Bible Studies book by Thomas Walker reveals Luke's narrative of Jesus as good news, challenge, and hope. Luke's story makes sense of the past, offers guidance for the present, and secures hope for the future.
Paperback books are on backorder, with delivery hopefully sometime in mid- to late- December. If you use a Kindle e-reader or Kindle Cloud Reader on the computer, this would be a good time to order your own Kindle copy for $5.00 at https://www.amazon.com/Interpretation-Bible-Studies-Thomas-Walker-ebook/dp/B00GDIXTX8 . 
Underdogs & Outsiders: A Bible Study on the Untold Stories of Advent

Wednesday

s
, November 30-December 14
| 
9:30-11
AM
Led by Lydia Fourman and Joan Dunn |  Books 
$
13
The Bible is full of surprises, with God working in strange and unexpected ways for God's purposes. During Advent, remembering this strange history of God working in our world helps us look forward to the birth of God's Son, Jesus. This Advent study by pastor Tom Fuerst explores five unexpected, unlikely people—underdogs and outsiders—in Jesus's genealogy who played a pivotal role in God's purposes. Through the Old Testament and Gospel stories, we are reminded to look for God in unexpected places during this Advent season. 
Wednesdays, January 11-February 15, 2023 | 9:30-11 AM
Led by Lydia Fourman and Joan Dunn |  Books 
$
16
If you feel you've lost your bearings, you aren't alone! Global crises expose our timeless need for an internal compass to guide us through disruption, disorientation, and change. Author James Harnish invites you into six crucial moments when Jesus found his bearings through scripture—and helps us find ways to connect Jesus's story with our own.
Books are on backorder, hopefully available in mid- to late-December.
Numbers: Learning Contentment in a Culture of More 
Thursdays, January 12-February 16 | 9:30-11 AM  
Led by Judy Woempner | Hybrid online + Room B/C | Books $11
Melissa Spoelstra's study of the Book of Numbers learns from people who wandered in the desert for 40 years, unable to enter the Promised Land because of grumbling, complaining, and lack of faith. We learn how God frees us from worry, discontentment, and comparison. When something inside us aches for more—more hope, freedom, joy—God helps us focus on God's provision and purpose in life's joys and pains.
The Women of Christmas by Liz Curtis Higgs
Friday

s
, Nov. 18-Dec. 16 | no meeting Nov. 25
| 
9:30-11
 AM
Led by Pastor Karla Elliott  | Hybrid online + Room B/C | Books $13
In The Women of Christmas, bestselling author Liz Curtis Higgs describes the powerful truths and sacred season unfolding for three women whose hearts belong to God. Elizabeth is barren, yet her trust in God remains fertile. Mary is betrothed in marriage, yet she is willing to bear God's Son. Anna is a widow full of years, yet she waits patiently, prayerfully for the Messiah to appear in the temple courts. Following in their footsteps, you too can prepare for the Savior to enter your heart, your mind, and your life in a vibrant, new way this season. Led by Pastor Karla Elliott, with training and shadowing opportunities for new leader(s) to emerge for 2023.  Childcare is available if requested >72 hours ahead (go to stmarkscarmel.org/signups).

Friday

 

AM Study: 2023 Update
If you would like to be a co-facilitator for the Friday AM group in 2023, contact Jennifer at grow@stmarkscarmel.org . 
Sunday Morning Study Groups
Cutting Edge
9:30 AM, Hybrid (Room G/H and Zoom)
 This group reads and discusses the Bible following the Revised Common Lectionary, a 3-year cycle of reading through scripture. The Word comes alive through the blessing of the Holy Spirit. Contact facilitator
Steve Click
 (
sclick52@gmail.com
) for Zoom connection information or join in Room G/H.
Open Doors, Open Ideas
9:40AM, Room L
This class shares in conversation about faith in real life, including current news issues from
The Wired Word
devotionals and/or themes from Christian books and authors. Chuck Blair facilitates.
Foundations and Friendships
9:40 AM, Hybrid (Room J/K and Zoom)
F&F's shares and discusses Christian themes through books,
The Wired Word
devotionals, and Bible studies. Recent books include 
The Color of Compromise, Questions God Asks Us
, and
The Will of God.
  Doug Brown (
dthbrown@gmail.com
), Kathy DeaKyne, and Todd Snow facilitate.  
Reel Spirituality
11:00 AM, Hybrid (Room G/H and Zoom) Everyone is welcome to "the movie class" for Christian themes and heartfelt topics through various films. The class is gathering in homes or individually watching movies and then using Zoom and Room G/H on Sundays to discuss. Lydia and Terry Fourman facilitate (email Jennifer – grow@stmarkscarmel.org for Zoom link).