Adult Study Groups
We are connecting in online Zoom meetings with our phones and computers, in a hybrid format (on-site and online),
and in a limited in-person format during our current reopening phase.
Staying Connected during COVID
Our online, hybrid, and limited on-site groups are listed below. For current re-opening and worship information, see our Stay Connected page. 
Grab-and-Go Book Pickup: Study books are on the shelves in the church entrance (Door #2), Monday to Friday, 9:00am-4:00pm, and Sunday mornings. Leave money in the box, in the office if it's open, or pay online.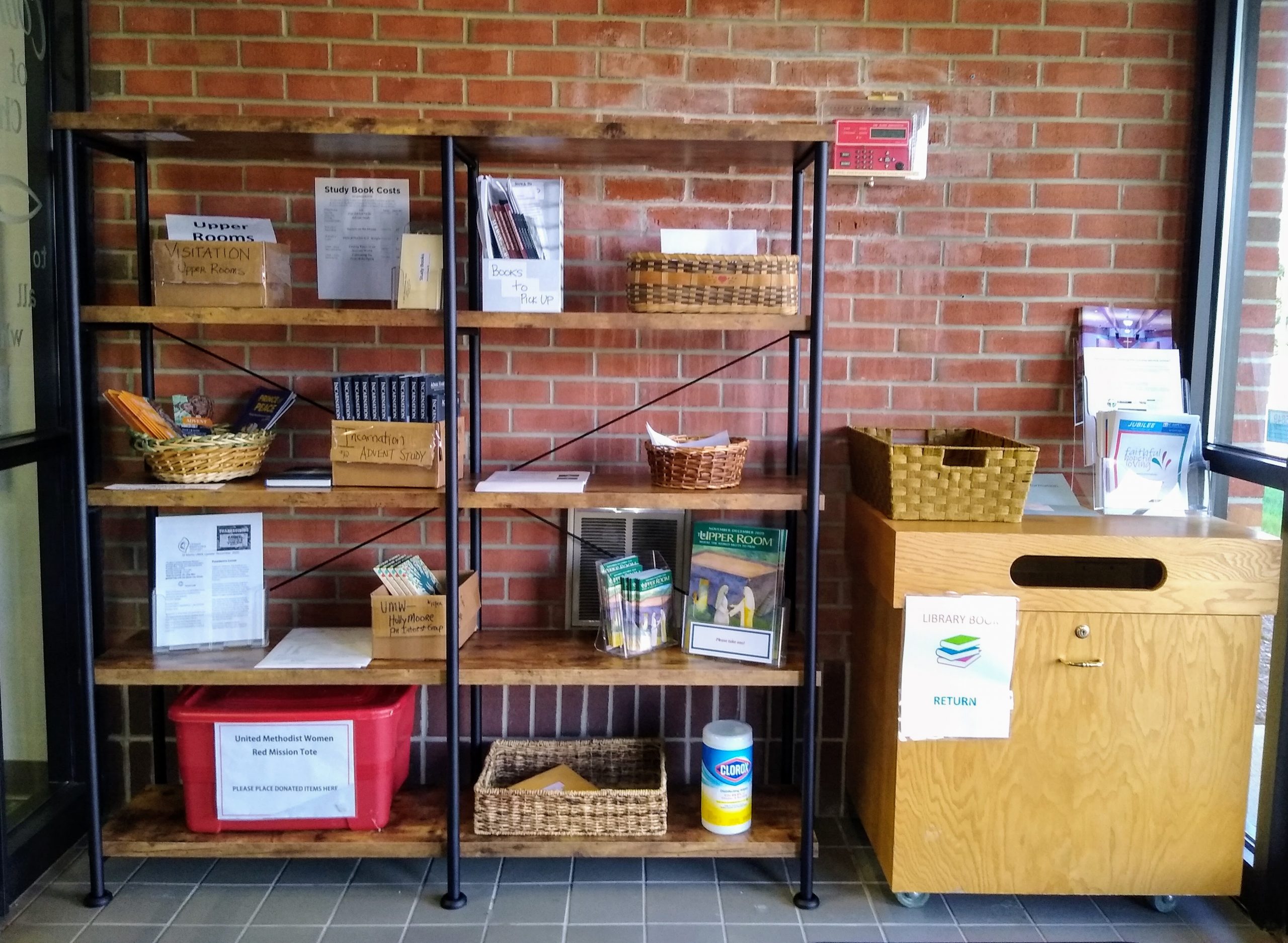 Walking as a Spiritual Practice 
Mary
Ann
 Moman will lead a group for those interested in walking as a spiritual practice.  We will meet one Thursday morning each month: May 27, June 24, July 29, and August 26, at 9:30 AM at River Road Park (12575 River Road).  Each time we will begin with a short devotional time and then walk.  You can choose to walk alone or in a group.  The length of the walk is up to each walker.  No sign up is necessary. Just show up! If you have any questions, contact Mary Ann Moman at mmoman@stmarkscarmel.org. 
Sunday PM Study
Courage: Jesus and the Call to Brave Faith
 

by Tom Berlin 

Sundays, May 16-June 20 | 6:00 – 7:15 PM
Led by Pastor Brian White | Hybrid online + Room B/C | Books $13

In Courage, pastor and author Tom Berlin challenges us to unlock the courage that we already possess as Christ followers. By examining the life of Christ, we will begin to understand what true courage is and how God works in the lives of Christ followers as they exhibit a brave faith. Once we have eyes to see what Jesus is showing us, once we have ears to hear, we can begin to find the remarkable life Jesus offers us. Offered on Zoom and in Room B/C. Limit 10 attendees on-site, so indicate your preference in your registration. 
NEW! Summer Weeknight Study 
Art & Spirituality 
Tuesdays, June 1-August 31 | 7:30PM
Led by Pastor Julia Gonzales
|
Hybrid online + Room B/C  | No book needed
For this hybrid online/on-site study, we'll listen to scripture, see scripture-based art, and each use our own supplies to create artwork from our spiritual reflections. Offered on Zoom and in Room B/C. Limit 10 attendees on-site, so indicate your preference in your registration. No book required – just bring your own portable art supplies (e.g., notebook, colored pencils).  This study is casual and lasts throughout the summer, so come and go as you can as your schedule allows.
Wednesday AM Study
Chase: Chasing After the Heart of God by Jennie Allen
Wednesdays, May 26-July 14 | 10:30-11:30 AM   
Led by Lydia Fourman | On-site | Books $12
What are you chasing? What does God really want from us? We often are doing so many things for everyone else that we altogether miss the heart of God. Whether you are running from God or working your tail off for what you think will please God, you will be challenged by this 8-session study of David's journey and the Psalms that flowed from his experiences. Offered on-site. 
Friday AM Study
Set Apart: A 6-Week Study of the Beatitudes by Jennifer Kennedy Dean
Fridays,

 
April 16-May 21
 

| 9:30-11:00 AM 
Led by Stephanie Cohen | Online| Books $13
This 6-week interactive study through the Beatitudes examines holiness, happiness, the Lord's Prayer, and the promise of blessedness in Christ's Sermon on the Mount. Unlike a circumstance-driven emotion such as happiness, blessedness is eternal and grounded in the reality of Christ in us. We can live in the state of blessedness that God has created for us when we discover the key to true holiness and a praying life – a call to freedom and joy. 
Sunday Morning Study Groups
Contact the leaders listed below to connect to Zoom with your computer or phone.
Venture
2:00PM, every 2 weeks, via phone or computer.
The Venture Class are mostly retirees who
 enjoys guests who share about varied topics. They are meeting on Zoom by either calling in for a conference call or joining on their computers. Jean Douglass facilitates and Jennifer Cloud-Buckner (
grow@stmarkscarmel.org
, 317-846-4912 x. 214) coordinates the Zoom. 
Open Doors, Open Ideas
TBD, meetings postponed for now. 
This class shares in conversation about our faith in real life, including current news issues from 
The Wired Word
devotionals and/or themes from Christian books and authors. Chuck Blair will facilitate when meetings resume in-person.  
Cutting Edge
9:25 AM, Zoom.
 Meeting on Zoom, this group reads and discusses the Bible following the Revised Common Lectionary, a 3-year cycle of reading through scripture. The Word comes alive through the blessing of the Holy Spirit. Facilitated by 
Steve Click
 (
sclick52@gmail.com
).
Foundations and Friendships
9:40 AM, Zoom. 
Meeting on Zoom, F&F's shares and discusses Christian themes through reading books, Wired Word devotionals, and Bible studies. Recent books include 
The Color of Compromise, Questions God Asks Us
, 
The Epic of Eden, 
and
 Incarnation
.  Doug Brown (
dthbrown@gmail.com
) and John Flora facilitate.
Journey
TBD, meetings postponed for now.
   Jonathan Barclay facilitates discussion of scriptures using the Revised Common Lectionary. 
Reel Spirituality
11:00 AM, Zoom. Everyone is welcome to "the movie class" for Christian themes and heartfelt topics through a variety of films. For now, the class is individually watching movies and/or video clips and then gathering on Zoom to discuss. When on-site meetings resume, the group will watch and discuss 30-40 minutes of a movie in Room G/H, usually completing a film within 3-4 consecutive Sundays. Lydia and Terry Fourman facilitate (email grow@stmarkscarmel.org for Zoom).