Adult Study Groups
Our groups are connecting on-site with in-person meetings, in a hybrid format (on-site and online), and/or on Zoom.
Stay Connected
Our online, hybrid, and on-site groups are listed below. For our current re-opening and worship information, see our Stay Connected page.
Grab-and-Go Book Pickup: Study books are on shelves in the church entrance (Door #2), Monday to Friday, 9:00am-4:00pm, and Sunday mornings. Leave money in the box, in the office if it's open, or pay online.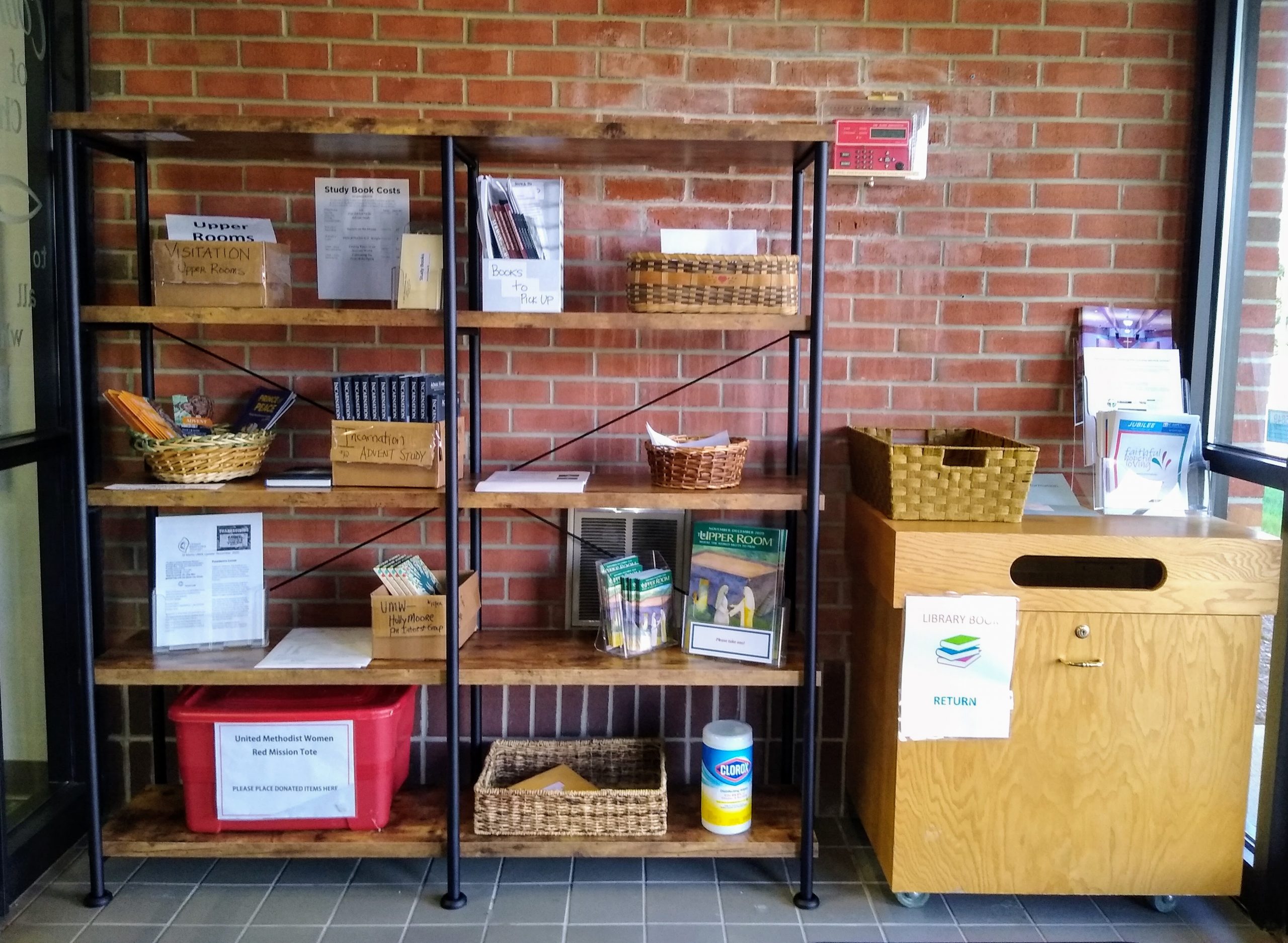 Sunday

 

PM

 

Study
Foundations for A Lifelong Journey


Sunday

s, September 12-October 24 | 6:00-7:15 

PM
Led by Pastor Brian White | Online + Room B/C | Books $15
Along with the "A Lifelong Journey" worship series beginning September 12, this study will help newbies and long-time churchgoers alike, including those who are brand new to Christian faith, new to St. Mark's, and all who are seeking renewal and inspiration while connecting with others in different stages of spiritual maturity. Growth as a disciple begins with a good foundation. We need to learn how to pray, how to begin reading the Bible, how to live in authentic relationships, how to have a devotional time, how to use the resources God has provided, how to discern our call to serve, and how to share our faith.
Along with the lifelong journey worship series, we'll be offering access to a discipleship survey for you to examine where you feel you are in your Life of Worship, Hospitality, being Open to Jesus and Obeying Jesus, Service, and Generosity. Click here to find out more.
Walking as a Spiritual Practice 
Mary
Ann
Moman will lead a group for those interested in walking as a spiritual practice.  The next fall session is October 28 at 9:30 AM at River Road Park (12575 River Road).  Each time we will begin with a short devotional time and then walk.  You can choose to walk alone or in a group for a duration of your choice. No sign up is necessary. Just show up! If you have any questions, contact Mary Ann Moman at mmoman@stmarkscarmel.org. 
Fertility Struggles Encouragement Group
Meets one evening monthly | November 18, December 9
Led by Pastor Julia Gonzales | off-site | meeting monthly
A new encouragement group is offering support to women who have had struggles with fertility and miscarriages.  This group is led by Pastor Julia and meets at Java House Coffee located at Midtown Plaza from 6:00-7:00pm one evening each month.  If you are interested in joining this group but are unable to meet at the scheduled time(s), please email Pastor Julia at jgonzales@stmarkscarmel.org.
Grief Group
Thursdays, September 16-November 4 | 6:30-8:00 PM
Led by Pastor Mary Ann Moman | Hybrid online + on-site | Books $15
We experienced so many kinds of grief over the last months.  The process of moving through grief can be a lonely journey.  You don't have to do it alone. We will use the texts Beyond the Broken Heart (Yarbrough) and The Will of God (Weatherhead). Books are available for $15 inside Door #2, the church's main entrance, 9:00AM – 4:00PM Monday – Friday and Sunday mornings. 
Men's Early Morning Bible Study: 
Romans 
Wednesdays, September 1-December 15 | 6:30-7:15 AM 
Pastor's Bible Study: 
Romans 
Wednesdays, September 1-December 15  | 9:00-10:00am 
Led by Pastor Brian White | Online + B/C | Books $11
Using the text by Robert Jewett, Genesis to Revelation: Romans, this study will go through the entire Book of Romans, beginning with an introduction to Paul and following through his life and his call. Some of the major ideas explored are Paul's purpose and situation, righteousness and wrath, being set free from sin, new life in the Spirit, and a tolerant ethic. 
Wednesday AM Study
Cultivating the Fruit of the Spirit 
b
y Christopher J.H. Wright
Wednesdays, September 8-November 10 | 9:30 – 11 AM   
Led by Lydia Fourman | Hybrid online + Room J/K | Books $11
How should Christians live? Legalistic approaches stress the importance of obeying rules to prove one's goodness, while others see Christian faith as setting us free from rules and institutionalized religious burden. In Galatians, Paul addressed these two extreme views by showing a better way to live—with the Spirit of God given to us through Christ: "Walk by the Spirit . . . led by the Spirit . . . live by the Spirit . . . keep in step with the Spirit. In Cultivating the Fruit of the Spirit: Growing in Christlikeness, pastor and scholar Christopher Wright invites us to cultivate the fruit of the Spirit: love, joy, peace, patience, kindness, goodness, faithfulness, gentleness, and self-control. Join this study to feed on the Word of God, grow in Christlikeness, and live a fruitful life.
Thursday AM Study
How Happiness Happens by Max Lucado 
Thursdays, October 21-December 2 | 9:30-11:00 AM 
Led by
 Judy Woempner
|
Room B/C 
+ Online  
| 
Study Guide $9
Our culture says there is one way to happiness: aspire, acquire, desire, retire. Yet, it's a path that often fails to deliver. In this video Bible study, bestselling author Max Lucado looks at several Biblical "one another" statements revealing that the happiest people on earth aren't those who have the most but those who are willing to give the most away. Find inspiration to initiate your own quiet revolution of joy, to be God's representative in a cascade of kindness, and to bring a few smiles to one another. Judy Woempner facilitates. Study Guide books are $9.  No meeting 11/25. 
Friday AM Study
Survival

 

Guide

 for the Soul by Ken Shigematsu
Fridays, October 1-November 19, no meeting 10/15 |  9:30-11:15 AM
Led by Stephanie Cohen | Online + Room B/C |
Books $12
Do you find that you're defining yourself by what you do, what you own, or what others think of you? This book helps us move to a fresh perspective on how certain spiritual practices re-orient our lives to God for our souls to flourish in demanding times. Led by Stephanie Cohen. Books $12.
Sunday Morning Study Groups
For hybrid meetings, contact the leaders listed below to connect to Zoom with your computer or phone.
Venture
9:15AM, Room B/C.
The Venture Class members are mostly retirees who
enjoy Great Courses videos and guest speakers on varied topics. Jean Douglass facilitates
. The class meets at 9:15 with joys and concerns, followed by the video or lesson at 9:40 or so. 
Open Doors, Open Ideas
9:40AM, Room L.
This class shares in conversation about faith in real life, including current news issues from
The Wired Word
devotionals and/or themes from Christian books and authors. Jessica Stevens and Chuck Blair are co-facilitators of this group. Join on August 29 for a brainstorming session, and the next study will begin on September 12. 
Cutting Edge
9:30 AM, Hybrid (Room G/H and Zoom online).
This group reads and discusses the Bible following the Revised Common Lectionary, a 3-year cycle of reading through scripture. The Word comes alive through the blessing of the Holy Spirit. Contact facilitator
Steve Click
 (
sclick52@gmail.com
) for Zoom connection information or join in Room G/H.
Foundations and Friendships
9:40 AM, Hybrid (Room J/K and Zoom online).
F&F's shares and discusses Christian themes through books,
The Wired Word
devotionals, and Bible studies. Recent books include 
The Color of Compromise, Questions God Asks Us
, and
The Epic of Eden
.  Doug Brown (
dthbrown@gmail.com
), Kathy DeaKyne, and Todd Snow facilitate.  
On break for July, returning Aug 1 for Walter Brueggemann book From Judgment to Hope.

Journey
TBD, meetings postponed for now.
   Jonathan Barclay facilitates discussion of scriptures using the Revised Common Lectionary. 
Reel Spirituality
11:00 AM, Room G/H and Zoom. Everyone is welcome to "the movie class" for Christian themes and heartfelt topics through a variety of films. The class is gathering in homes or individually watching movies and then using Zoom and Room G/H on Sunday mornings to discuss. Lydia and Terry Fourman facilitate (email Jennifer – grow@stmarkscarmel.org for Zoom link).