Adult Study Groups
Our groups are connecting on-site with in-person meetings, in a hybrid format (on-site and online), and/or on Zoom.
Stay Connected
Our online, hybrid, and on-site groups are listed below. For our current re-opening and worship information, see our Stay Connected page.
Grab-and-Go Book Pickup: Study books are on shelves in the church entrance (Door #2), Monday to Friday, 9:00am-4:00pm, and Sunday mornings. Leave money in the box, in the office if it's open, or pay online.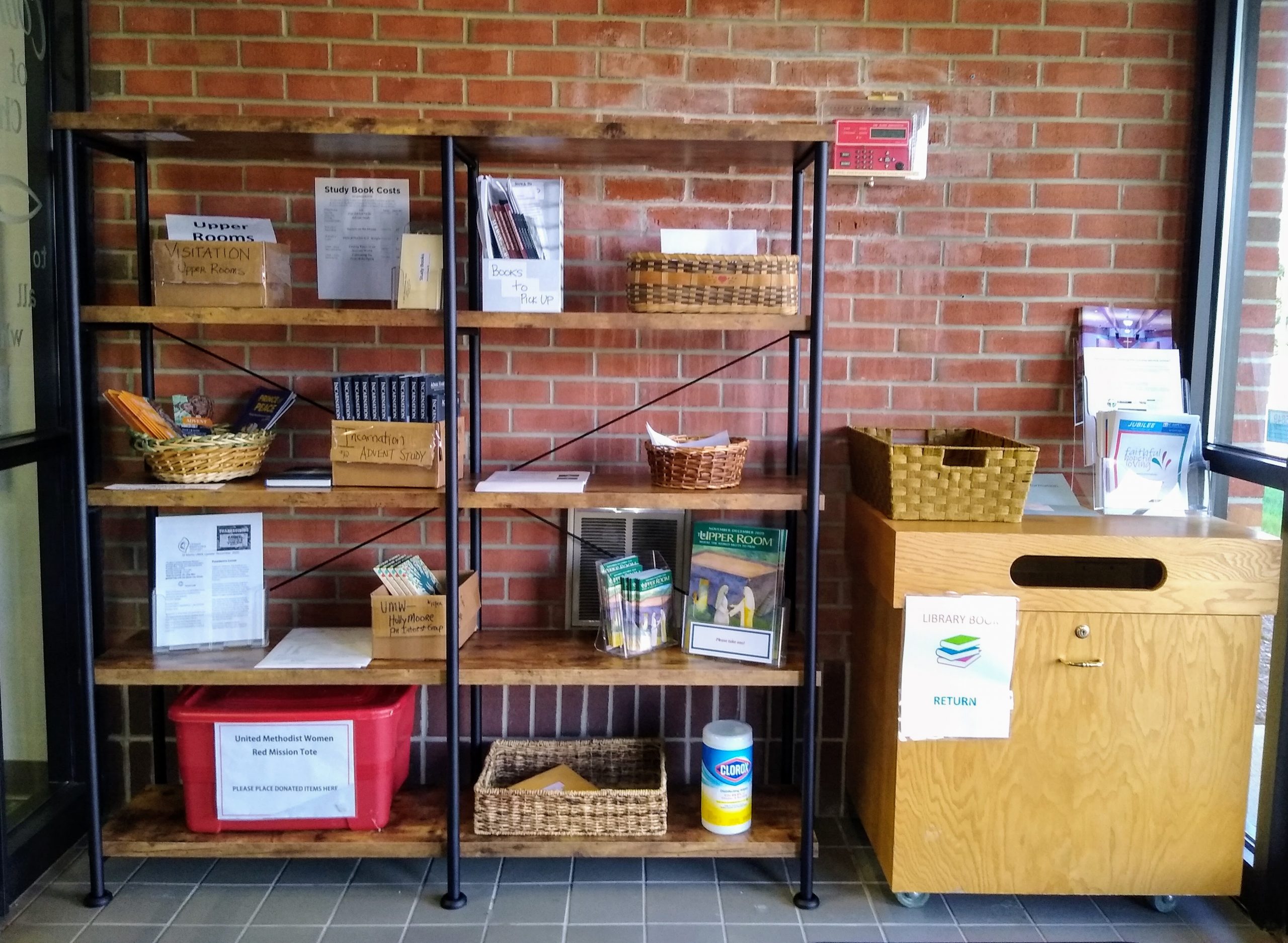 QPR Suicide Prevention Training 
Sunday, February 6 | 2:00-4:00PM 
Do you struggle with how to respond to a friend, colleague, or loved one who feels depressed, hopeless or overwhelmed and could be considering suicide? QPR (Question, Persuade, Refer) Training is recommended for adults of all ages in any stage in life. Students in grades 9-12 are welcome to attend with an accompanying parent. Advance registration is required by January 30. 
Attendees will leave with:
Information that is easy to understand and reinforced by a QPR booklet
A card complete with warning signs
Methods to encourage a person to get help
List of community resources
Widows Encouragement Group
Beginning February 17 | 6:00-7:00 PM Room B/C 
As a branch off from the Grief Group, we are launching a new encouragement group for those who have been widowed. Whether widowed recently or a long time ago, this group is a chance to find a listening ear through shared experiences–remembering anniversaries, unexpected griefs and joys, and all the new things that one learns in widowhood. This group will begin every other Thursday evening for 4 meetings, and then the group will decide the future schedule of gatherings.  
Fertility Struggles Encouragement Group
Meets one evening monthly | Jan. 13
Led by Pastor Julia Gonzales | off-site | meeting monthly
A new encouragement group is offering support to women who have had struggles with fertility and miscarriages.  This group is led by Pastor Julia and meets at Java House Coffee located at Midtown Plaza from 6:00-7:00pm one evening each month.  If you are interested in joining this group but are unable to meet at the scheduled time(s), please email Pastor Julia at jgonzales@stmarkscarmel.org.
Social Justice Book Discussion: I'm Still Here 
Sunday, February 27 | 6:00-7:30 | Online + Room J/K| Books $9
The Social Justice team advocates, educates, and engages our congregation and community on issues of social justice using the UMC Social Principles. Join the team for a congregational discussion on Austin Channing Brown's memoir I'm Still Here: Black Dignity in a World Made for Whiteness. Books will be available in the church entrance and on the GROW Connection Tables for $9. Questions? Email grow@stmarkscarmel.org or contact Jessica Stevens. 
This New York Times bestselller will open your eyes to Austin Channing Brown's life experience–her first encounter with a racialized America came at age seven, when she discovered her parents named her Austin to deceive future employers into thinking she was a white man. In a time when nearly every institution (schools, churches, universities, businesses) claims to value diversity in its mission statement, Austin writes in breathtaking detail about her journey to self-worth and the pitfalls that kill our attempts at racial justice.
Men's Early Morning Bible Study: 
The Difficult Words of Jesus 
Wednesdays, January 19-February 23 | 6:30-7:15 AMLed by Pastor Brian White | Room B/C + Online | Books $13
Pastor's Bible Study: 
The Difficult Words of Jesus 
Wednesdays, January 19-February 23 | 9:00-10:00 AM Led by Pastor Brian White | Room B/C + Online | Books $13
Jesus taught his disciples how to follow God's word, told them parables to guide their discernment on ethics and of human nature, and offered beatitudes for encouragement and comfort. But sometimes Jesus spoke words–about hating one's family, about slavery, selling all belongings, "the devil's children," and damnation–that followers then and now have found difficult. In The Difficult Words of Jesus, Dr. Amy-Jill Levine shows how these difficult teachings would have sounded to the people who first heard them, how have they been understood over time, and how we might interpret them in the context of the Gospel of love and reconciliation.
Wednesday AM Study – 2022
Mark + The Pilgrim Messiah
Wednesdays, January 12-March 2 | 9:30-11 AM   
Led by Lydia Fourman | Hybrid online + Room J/K | Books $15
Bring your Bible and get ready to experience the Gospel in a whole new way! This study led by Lydia Fourman will blend the Bible's Gospel of Mark with the warmly imaginative writings in The Pilgrim Messiah, a novel by Dr. Richard Cheatham that brings Jesus's story to life from the Gospel of Mark. Jesus was both fully human and fully divine, and this novel will help you experience Jesus's rich humanity: tender partings with his family, his friendships with likeable followers, and his struggles in the wilderness and on the cross. 
Thursday AM Study

– 2022

 

 
Dream Big by Bob Goff 
Thursdays, January 13-February 10 | 9:30-11:00 AM 
Led by
 Judy Woempner
|
Room B/C 
+ Online  
| 
Study Guide $9
Bob Goff, the New York Times bestselling author of Love Does and Everybody, Always, is on a mission to help people recapture the version of their lives they 

dream

ed about before fear started calling the shots. He wants them to 

dream

 

big

. With practical revelations and great enthusiasm, this study will help you uncover the wild and exciting 

dream

for your life that you've hidden from yourself–and help you take the steps necessary to achieve it. Optional full Dream Big book is available from church office.
Friday AM Study

– 2022

 

 
The Best Yes
by Lysa Terkeurst
Fridays, January 7-February 11 |  9:30-11:00 AM
Led by Stephanie Cohen | Online + Room B/C |
 Study Guide $9 
Have you ever started a new spiritual habit—e.g., meditation, Bible reading, prayer, finding sabbath rest—but found it difficult to stick with it? Discipleship happens best when we create margin in our overwhelmed schedules and prayerfully learn how to prioritize our time with two powerful words: yes and no. Bestselling author Lysa TerKeurst has learned firsthand that there's a big difference between saying yes to everyone and saying yes to God. Drawing from scripture, God's wisdom and grace, and her own experiences, Lysa teaches us how to stop people-pleasing, how to say the "small no," and how to sharpen our own discernment about our time, choices, and the lives God has planned for each of us. Study Guide is $9. Optional full book is an additional $9.
Sunday Morning Study Groups
Venture
9:15AM, Room B/C.
The Venture Class members are mostly retirees who
enjoy Great Courses videos and guest speakers on varied topics. Jean Douglass facilitates
. The class meets at 9:15 with joys and concerns, followed by the video or lesson at 9:40 or so. 
Open Doors, Open Ideas
9:40AM, Room L.
This class shares in conversation about faith in real life, including current news issues from
The Wired Word
devotionals and/or themes from Christian books and authors. Jessica Stevens facilitates.
Cutting Edge
9:30 AM, Hybrid (Room G/H and Zoom online).
This group reads and discusses the Bible following the Revised Common Lectionary, a 3-year cycle of reading through scripture. The Word comes alive through the blessing of the Holy Spirit. Contact facilitator
Steve Click
 (
sclick52@gmail.com
) for Zoom connection information or join in Room G/H.
Foundations and Friendships
9:40 AM, Hybrid (Room J/K and Zoom online).
F&F's shares and discusses Christian themes through books,
The Wired Word
devotionals, and Bible studies. Recent books include 
The Color of Compromise, Questions God Asks Us
, and
The Epic of Eden
.  Doug Brown (
dthbrown@gmail.com
), Kathy DeaKyne, and Todd Snow facilitate.  
Journey
TBD, meetings postponed for now.
   Jonathan Barclay facilitates discussion of scriptures using the Revised Common Lectionary. 
Reel Spirituality
11:00 AM, Room G/H and Zoom. Everyone is welcome to "the movie class" for Christian themes and heartfelt topics through a variety of films. The class is gathering in homes or individually watching movies and then using Zoom and Room G/H on Sundays to discuss. Lydia and Terry Fourman facilitate (email Jennifer – grow@stmarkscarmel.org for Zoom link).