Adult Study Groups
Find community and grow in your spiritual walk through our adult discipleship groups.
See options below for in-person and hybrid (Zoom + in-person) meetings.
How to Find and Pay for Books
Study books are on 1) shelves in the main church entrance (Door #2) and 2) the GROW Connection Tables in the Gathering Area. Entrance shelves are available Mon-Th (9a-4p), Fri (9a-1p), Sun mornings. 
To pay for books, mark your envelope as "Study Books" and place in the offering plate, office, black box on the shelves, or basket on the connections table. Make checks to St. Mark's UMC with "study books" in the memo line. You can also pay online.  On the online giving page, click the box under "How would you like to allocate your donation" and select Study Books from the dropdown menu.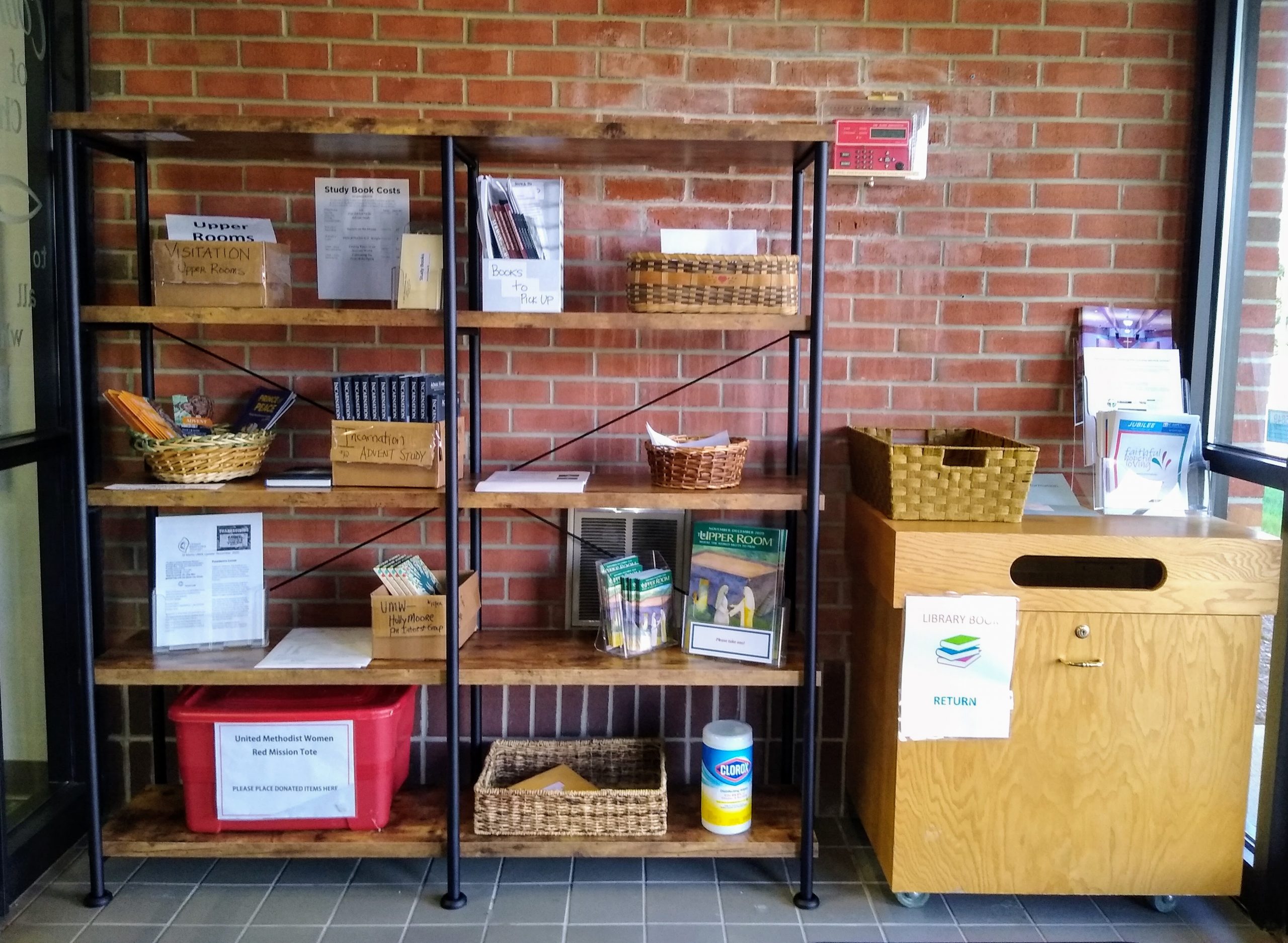 Themed and Short-Term Studies
Short-term studies explore specific themes (e.g., discipleship topics, spiritual growth, social justice, Advent / Lenten seasons).
Churchwide Lenten Study: Dynamite Prayer 
Sundays
, March 5-26, 2023
| Dinner 5:00-5:45PM, Small Groups for ALL AGES 5:45-6:30PM
"Do I really believe that prayer makes a difference? […] Many Christians are snacking on prayer rather than feasting on prayer."  — Rev. Sue Nilson Kibbey
According to Rev. Kibbey, co-author of Dynamite Prayer, our prayers often focus on problems: "down and in" prayers for healing, travel mercies, health, grief, and other pains in life. But how often do we pray an "up and out" prayer — a "breakthrough prayer" —  for God's divine, miraculous power in the Holy Spirit to unleash more than we could ever ask, think, or imagine in our lives, in the church, and the world? If you are ready to move from problem-focused prayer to possibility-focused prayer, Dynamite Prayer is your guide to begin a daily rhythm of asking God to break through with new hopes, dreams, and possibilities for our church and in our own lives. 
Sunday PM Study
Five Marks of a Methodist: The Fruit of a Living Faith
Sundays
, April 16-May 14
| 6:00-7:00 PM 
Led by Pastor Brian White |  Books 
$8
These sessions provide reflection on the five identifiers that John Wesley set forth in "The Character of a Methodist," which he published in 1742:

1. A Methodist Loves God
2. A Methodist Rejoices in God
3. A Methodist Gives Thanks
4. A Methodist Prays Constantly
5. A Methodist Loves Others
This brief book provides
meditation on each of these characteristics so you can prayerfully apply them to your journey with Jesus. If you are part of the worldwide Methodist or Wesleyan family, these five marks will grant a greater knowledge and appreciation for why and how you follow Jesus. If you are coming from another part of the body of Christ, you can emerge with a solid 
foundation to keep your spiritual house standing strong. Christians 
marked by these five habits, when taken together, have character.
he Wired Word: Weekly emails for personal study 
Join the 70+ other St. Mark's folks who receive this thought-provoking devotional.
St. Mark's subscribes to 
The Wired Word, a weekly devotional for personal study and small group discussions. Topics are wide-ranging and directly relate scriptures to timely news stories. Recent topics have included remembrances of notable figures, generosity, corruption, forgiveness, neighborliness, prayer, and environmentalism. The email goes out on Thursdays or Fridays weekly. To be added to the list,
email Jennifer Cloud-Buckner (
grow@stmarkscarmel.org
).
Our ongoing weekday morning studies gather on Wednesdays, Thursdays, and Fridays during the school year.
Wednesday AM Study

 

Paul for Everyone 1 & 2 Timothy from N.T. Wright's
Wednesdays
, April 12-June 28
| 
9:30-11
 AM | no meeting 5/31
Led by Lydia Fourman and Joan Dunn | Books 
$
17
With an anecdotal and approachable and writing style, N.T. Wright helps us to see the pastoral nature of the apostle Paul's writings in 1 & 2 Timothy—books that provide instruction to junior disciples and guide Christians in a way of life. Paul wants the gospel to transform the lives of all who profess the faith so that teachers and followers build up the community in mutual support. 
Thursday
AM Study: 
Signs and Wonders
Thursdays, April 13-May 18
| 
9:30-11
 AM
Led by Judy Woempner | Hybrid online + Room B/C | Books $12 
In Signs and Wonders: A Beginner's Guide to the Miracles of Jesus, Dr. Amy-Jill Levine—professor of New Testament and Jewish Studies—explores selected miracles of Jesus in historical and theological context. For each miracle, she discusses not only how past witnesses could have understood the events, but also how today's readers can draw meaning from Jesus's words and actions.
Friday

 

AM Study:

 

Bad Girls of the Bible
Fridays, April 14-May 12 | 9:30-11 AM 
Led by
 Sarah Copeland, Robin Spyker, and Beth McGill
|
Room B/C 
+ Online 
| Books $13
Ten of the Bible's best-known
femmes fatales
parade across the pages of this popular and unforgettable study. As we experience selfishness, deception, pride, temptation, burdens, and exhaustion in our own lives, these stories of some of the most infamous "bad girls" of the Bible help us learn how they handled life's challenges. Author Liz Curtis Higgs combines contemporary retelling and verse-by-verse examination of these "other woman" stories with encouragement and humor. 
Childcare is available if requested >72 hours ahead.
Sunday Morning Study Groups
Cutting Edge
9:30 AM, Hybrid (Room G/H and Zoom)
 This group reads and discusses the Bible following the Revised Common Lectionary, a 3-year cycle of reading through scripture. The Word comes alive through the blessing of the Holy Spirit. Contact facilitator
Steve Click
 (
sclick52@gmail.com
) for Zoom connection information or join in Room G/H.
Foundations and Friendships
9:40 AM, (Room J/K)
F&F's shares and discusses Christian themes through books,
The Wired Word
devotionals, and Bible studies. Recent books include 
The Color of Compromise, Questions God Asks Us
, and
The Will of God.
  Doug Brown (
dthbrown@gmail.com
), Kathy DeaKyne, and Todd Snow facilitate.  
Reel Spirituality
11:00 AM, Hybrid (Room G/H and Zoom) Everyone is welcome to "the movie class" for Christian themes and heartfelt topics through various films. The class is gathering in homes or individually watching movies and then using Zoom and Room G/H on Sundays to discuss. Lydia and Terry Fourman facilitate (email Jennifer – grow@stmarkscarmel.org for Zoom link).