Adult Study Groups
Find community and grow in your spiritual walk through our adult discipleship groups.
Stay Connected
Our groups connect on-site with in-person meetings, in a hybrid format (on-site and online), and/or on Zoom.
Grab-and-Go Book Pickup: Study books are on shelves in the church entrance (Door #2), Monday to Thursday, 9:00am-4:00pm, Firdays 9:00am to noon and Sunday mornings. Leave money in the box, in the office if it's open, or pay online.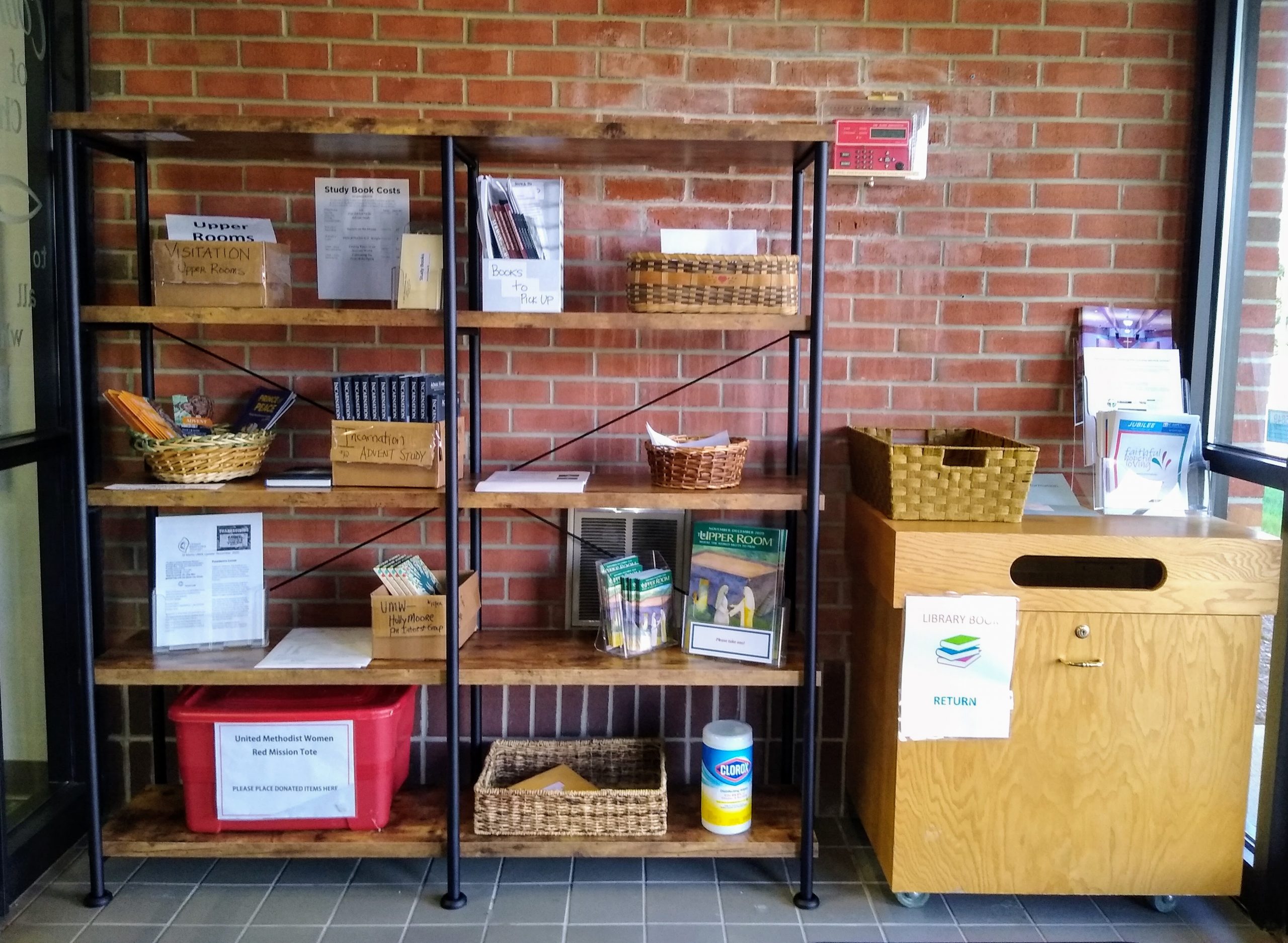 Themed and Short-Term Studies
Short-term studies explore specific themes (e.g., discipleship topics, spiritual growth, social justice, seasonal studies).
Walking

 

as

 

Spiritual

 

Practice 
We are continuing this popular group from last summer! Jennifer Cloud-Buckner will lead a group for those interested in 

walking

 as a 

spiritual

 practice in a daytime and NEW evening session each month.
On the last Thursday morning monthly (9:00 AM on 5/26, 6/30, 7/28, 8/25) and last Tuesday evening monthly (7:00 PM on 5/31, 6/28, 7/26, 8/30), we will gather at River Road Park (12575 River Road).  Each time we will begin with a short devotional time and then walk.  You can choose to walk alone or in a group for a pace and duration of your choice! Sign up is not required, but if you'd like to be on the email list for any weather changes or cancellations, sign up here.
Weekday studies meet on Wednesdays, Thursdays and Friday mornings.
Men's Early Morning Bible Study: 
Simply Good News  
Wednesdays, April 20-June 22 | 6:30-7:15 AMLed by Pastor Brian White | Room B/C + Online | Books $14
Pastor's Bible Study:
Simply Good News  
Wednesdays, April 20-June 22 | 9:00-10:00 AM Led by Pastor Brian White | Room B/C + Online | Books $14
The Gospel means good news. But if the message has been around for 2,000 years, what makes it significant today? What's so "good" about stories involving damnation, violence, and a God who sacrifices his only son? Bible scholar N.T. Wright shows how Christians today have lost sight of what the "good news" of the gospel really is. In Simply Good News, Wright takes us back in time to reveal how the gospel's original audience in the 1st century would have received Jesus' message. He offers a clear and thoughtful analysis of what the "good news" really is, applies it to our lives today, and reveals its power to transform us.
Wednesday AM Study
Wholehearted Faith by Rachel Held Evans
Wednesdays, May 11-June 15 | 9:30-11 AM 
Led by Joan Dunn & Lydia Fourman | Room J/K | Books $18 
Author Rachel Held Evans is widely recognized for her theologically astute, profoundly honest, and beautifully personal books, which have guided, instructed, edified, and shaped Christians as they seek to live out a just and loving faith. Her reflections on faith and life continue to encourage, challenge, and influence even after her tragic death in 2019 at age 37. This rich collection of essays asks candid questions about the stories we've been told—and the stories we tell—about our faith, our selves, and our world.
This book is for the doubter and the dreamer, the seeker and the sojourner, those who long for a sense of spiritual wholeness and those who have been hurt by the Church but can't seem to let go of Jesus's story. Through theological reflection and personal recollection, Rachel wrestles with God's grace and love, looks unsparingly at what the Church is and does, and explores universal human questions about becoming and belonging in this unforgettable, moving, and intimate book.
Thursday AM Study
Forgiving What You Can't Forget 
by Lysa TerKeurst
Thursdays, April 14-May 19 | 9:30-11:00 AM 
Led by
 Judy Woempner
|
Room B/C 
+ Online 
|
Full Book $15 or 
Study Guide $12. (Book/study guide bundle price is $22).  
If your mind is stuck in overdrive because you repeatedly play back others' offenses, this study is for you. As author Lysa TerKeurst shares her deeply personal journey with forgiveness, resentment, and searching for peace, you'll learn a step-by-step plan to let go of bound-up resentments, to free yourself from hurt, to disempower triggers that hijack your emotions, and to deal with difficult relationships. This group will follow the video study guide, and the optional full book is available. (Buy both at a discounted bundle price.) 
Friday AM Study
Chasing Vines
by Beth Moore
Fridays, April 15-May 20 |  9:30-11:00 AMLed by Stephanie Cohen | Online + Room B/C |  Study Guide $11 or Full Book $14. (Book/study guide bundle price is $20). 
Does the field of your life feel like rocky soil? Beloved Bible teacher Beth Moore explores the ways God delights in watching things grow–and how the vineyard holds the secret to a more abundant and meaningful life as we abide in the vine of Christ.  If you've ever tended your own garden, you know that the fruit is the most delicious when you've seen it grow. As she traces the metaphor through Scripture, Beth Moore uncovers how every part of our own lives—even the rockiest soil—can be used to make a difference for God's kingdom.  
Sunday Morning Study Groups
Venture
9:15AM, Room B/C.
The Venture Class members are mostly retirees who
enjoy Great Courses videos and guest speakers on varied topics. Jean Douglass facilitates
. The class meets at 9:15 with joys and concerns, followed by the video or lesson at 9:40 or so. 
Open Doors, Open Ideas
9:40AM, Room L.
This class shares in conversation about faith in real life, including current news issues from
The Wired Word
devotionals and/or themes from Christian books and authors. Chuck Blair facilitates.
Cutting Edge
9:30 AM, Hybrid (Room G/H and Zoom online).
This group reads and discusses the Bible following the Revised Common Lectionary, a 3-year cycle of reading through scripture. The Word comes alive through the blessing of the Holy Spirit. Contact facilitator
Steve Click
 (
sclick52@gmail.com
) for Zoom connection information or join in Room G/H.
Foundations and Friendships
9:40 AM, Hybrid (Room J/K and Zoom online).
F&F's shares and discusses Christian themes through books,
The Wired Word
devotionals, and Bible studies. Recent books include 
The Color of Compromise, Questions God Asks Us
, and
The Epic of Eden
.  Doug Brown (
dthbrown@gmail.com
), Kathy DeaKyne, and Todd Snow facilitate.  
Journey
TBD, meetings postponed for now.
   Jonathan Barclay facilitates discussion of scriptures using the Revised Common Lectionary. 
Reel Spirituality
11:00 AM, Room G/H and Zoom. Everyone is welcome to "the movie class" for Christian themes and heartfelt topics through a variety of films. The class is gathering in homes or individually watching movies and then using Zoom and Room G/H on Sundays to discuss. Lydia and Terry Fourman facilitate (email Jennifer – grow@stmarkscarmel.org for Zoom link).