UMW Purpose
United Methodist Women shall be a community of women whose purpose is to know God and to experience freedom as whole persons through Jesus Christ; to develop a creative, supportive fellowship; and to expand concepts of mission through participation in global ministries of the church.
Monthly Meetings
2nd Tuesday of each month at 9:00 AM & 7:00 PM, from September to May.
The next regular meeting will be, Tuesday, February 8. We will continue to meet in Cornerstone Commons. Refreshments will be served at both the morning and evening gatherings. Please plan on being with us, bring a friend, and share in the involvement of St. Mark's women and the UMW projects. Our interest groups will begin meeting in October. Information for each interest group can be found below.
Please enter through Door #1 by Wesley Hall. We will follow the Church Task Force Protocol and wear masks in the church hallways. Come and bring a friend or neighbor as we share the joy of actually meeting in person.
If you are new to UMW, Welcome! Below are the groups available. Interest Groups will be meeting after the general meeting.
SPIRITUAL GROWTH
Rodene Gosselin, Facilitator
We will use Daryl Stephens book:  Bearing Witness in the Kin-dom.  Daryl says in the introduction, "This book is about living into the kin-dom of God through the moral witness of the church. The moral witness of the church encompasses our participation as Christians in God's response to suffering and injustice in light of what we believe about God and God's intention to reconcile all creation." I think this is a timely conversation for us as we are experiencing divisions in the world and in our church.
BOOKWORMS
Gail Lee, Facilitator
A book discussion group that reads both fiction and non-fiction. The books may or may not be related to Christianity, but we will often ask if the material points us toward redemption, reconciliation, and grace.  Gail will have copies from the Carmel Library "Books in a Bag program."
February: Carnegie's Maid by Marie Benedict
March:  The Chilbury Ladies Choir by Jennifer Ryan
April:  And Then There were None by Agathe Christie
May:  The Doctors Blackwell by Janice Nimura
CULTURAL INSIGHTS
Various Faclitators
This is a unique group which will review different locations from around the world. The leaders have lived in specific regions and will share some of their experiences. A keen awareness of not only the religious climat of the area, but additional ethnic traditions and customs will be shared. Absorb and savor this hands on/interactive learning opportunity. 
January: Ann Baker will inform us about similarities and differences between Spain and the United States and many of their celebrations and Holidays.
February: Kathy Lentz will share about her experiences in South America.
March: Ramie Cooney will share stories and inform us about living in Ghana.
April: Pat Parks will bring glimpses of the years they were able to live in London and her visits to neighboring European Regions
If you were not in an interest group last year, but wish to join one this year, please contact Sonjia Clodfelder at clod1725js@aol.com.
BOOKMARKERS
Deb Skinner, Facilitator
The evening Bookmarkers read anything and everything, and enjoy lively discussion, fellowship and support.
BookMarkers Books for 2021-22
February – Small Great Things by Jodi Piccoult (For Black History Month)
March – The Girl Who Never Read Norm Chomsky by Jana Casale (For Women's History Month)
April – The Beantown Girls by Jane Healey (For WWII History Month)
May – The Paris Library: A Novel by Janet Skeslien Charles (For Library Month)
Summer – Once Upon a River by Diane Setterfield
Both Morning & Evening Interest Groups
CARE & SHARE
Sonjia Clodfelder & Jodi Horst-Miller, Facilitators
Enjoy the opportunity and fellowship of creating CARE & SHARE gift bags/baskets for those needing an extra "you are loved and we are thinking of you". Your hands and hearts are the only requirements, all other supplies will be provided.
We have prepared and delivered 20 Baskets so far. Please consider who you know who might feel an extra blessing by receiving one of these special baskets. If you know of someone whoul would be blessed by a basket, please complete the form provided at the UMW meetings or contact Sonjia Clodfelder at clod1725js@aol.com, or Jodi Horst-Miller at jodi@millerhorst.com.
We are collecting donations for the baskets. They can be placed in the UMW Caring and Sharing plastic bin inside door #2. Supplies can be brought to the UMW Meetings. Here are ideas for donations: packets of hot chocolate, hot cider, soup, crackers, tea bags, blank note cards & envelopes, small devotionals, small books, stickers, yarns and ribbons, glue sticks, small 4 in. stuffed animals, baskets & plain gift bags, tissue paper, cereal and fruit grain bars, individual cracker packages, Little Debbie treats, small tubes of hand cream, lip balm
Ways to Support Our Missions
The St. Mark's UMW donates to the following organizations supported
through fund raising efforts, personal giving, and collections of needed items.
Brightwood Center
East 10th Street Children's Center
Fletcher Place
IHN-Family Promise
Hamilton County Kids Coats
Vida Nuevo UMC / Abundant Harvest UMC
Lucille Raines Residence (owned and operated by UMW of Indiana)
Indiana United Methodist Children's Home: www.iumch.org
Red Bird Mission in Southeastern Kentucky
United Methodist Committee on Relief (UMCOR)
Operation Classroom, Inc. Partnership with the UM Churches of Liberia/Sierra Leone, W. Africa
Window to the World:  A UMW Reading Program
All women of the church are invited to participate in the United Methodist Women National Reading Program "Your Window to the World"
Book Discussions take place 5 times a year in the church library. Book discussion dates for the 2022 calendar year are Monday:
March 14 Leadership Development
April 25 Nurturing for Community
August 29 Social Action
October 24 Spiritual Growth
Visit the Reading Progrm website https://www.unitedmethodistwomen.org/readingprogram for a list of eligible books.
For more information or to be added to the reading program email distribution list contact Kathy Lentz at kathylentz@gmail.com
The next question you may be asking yourself is how do I get these books? Answers:
Some of them may be available in the St. Mark's UMC library (noted on Google Doc). Call church office to arrange pick-up.
Some of them may be available in your public library (CCPL noted on Google Doc)
Purchase them from online booksellers, i.e. Amazon, Cokesbury, Barnes & Noble, etc.
Purchase them from a local bookstore
Share with other readers. Notify through email or Facebook.
If you do order books through Amazon, please remember to visit smile.amazon.com, Amazon's charitable giving page, and select "United Methodist Women" as your charitable organization. For all eligible purchases made on smile.amazon.com, Amazon will donate 0.5% to United Methodist Women.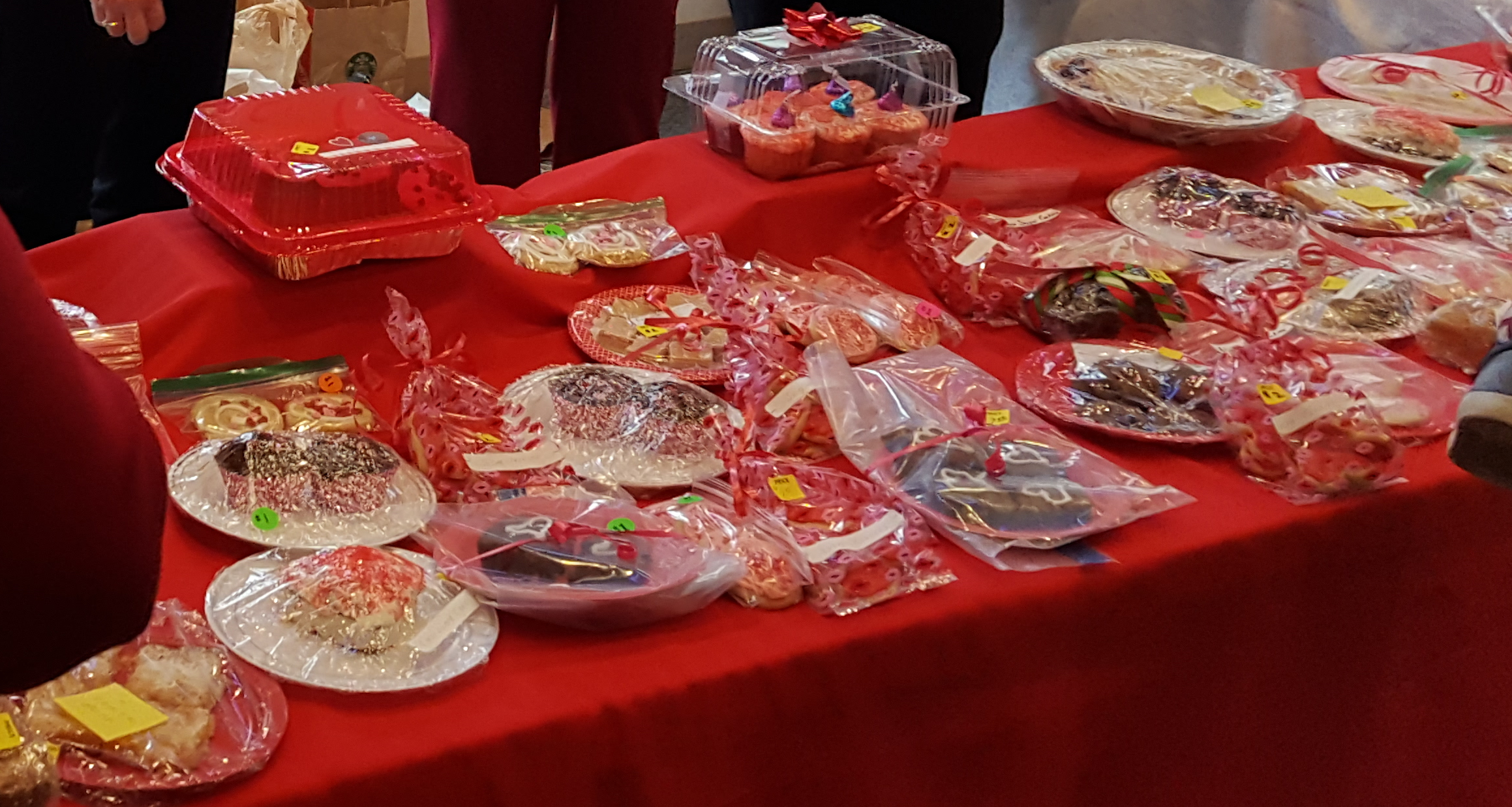 Dessert Extravaganza | February 13
UMW will once again have our Dessert Extravaganza between services on February 13. Volunteers are needed to bake goodies, help set up for the sale and help with selling on February 13! How will you help out with this yearly fundraiser?!
Bakers can bake cookies, pies, cakes, candies – please wrap your items so that they can be displayed and priced. If nuts are in the recipe, be sure to mark your item accordingly.
Desserts can be dropped off on Friday, February 11 during office hours (9 AM – Noon) or Saturday, February 12 between 10 AM and Noon.
Volunteers are needed all morning on February 13.
Sign up to help at the January 11 meeting.
Faith Talks – A United Methodist Women Podcast
Faith Talks are monthly conversations with United Methodist Women hosted by Jennifer R Farmer, Spotlight PR. Each conversation explores themes and resources that empower us to put faith, hope and love into action. To access Faith Talks podcasts, go to www.unitedmethodistwomen.org and look for Faith Talks in the blue box.